So,
Siblings : a family portrait project
has been organised by ten of the blogger supermums, to take a photo of their children (each family, all together), on the 10th of each month.
A lovely idea, to chronicle their relationship over the course of a year - my lot are a fair bit older than some of theirs, and photos are often kinda tricky with Smiler, but I'm going to give it a go. I mean, it's got a pretty badge and everything ...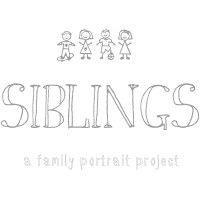 See?
So here goes - late for January, but hey - rules are made to be wriggled around. At least that seems to be the case in my house.
I'm planning to approach it a little differently, and show you a few photos instead of one. I often love the outtakes as much as the film, because they're real, and honest. I'm no amazing photographer, and my kids don't know I write this yet, but hopefully someday they might like to troll through the archives and sneak a peek at the barely controlled chaos!
And here's my favourite - cropped differently to the same photo up there, and looking at it now I'm thinking I would like it even more if it was cropped even closer to their heels.
Feet. They're just kinda funny, don't you think?
Noah with his serious, conservative black socks, just a couple of bits of fluff; Petal - grubby toe impressions, white socks pulled on tight and, of course, both of them on inside out; Smiler in his NHS boots - he struggles to stand without ankle support, so they tend to stay on indoors, but with the very uneven wear patterns on the soles you can see that not only does he now walk enough to actually wear away some of the sole, he's also very definitely left footed!
~~~~~